By Megan Munro & Matt McAllister – Carolina Panthers Writers
---
A tough and testing game on the road against a bruising defense and one of the leagues top young talents at Quarterback Deshaun Watson, that is what the Panthers contended with this Sunday. Going into the game 1-2 with their star QB still out injured, and a promising but still green Kyle Allen making his 3rd career start and only his 2nd in a meaningful game meant there was an air of anticipation and nerves around this game.
Kyle Allen quite rightfully has created somewhat of a buzz and a discussion around the QB position in Charlotte following his 261 yards, 4 Touchdowns and 0 Interceptions game last week. We have not seen a performance this good with a Panthers QB, his passer rating of 144.4 exceeds any rating Cam has ever achieved in his pro career, so it's no surprise that the discussion came about and it should be considered a legitimate question whether Super-Cam's reign is under threat?
This being the case it's no surprise that the weight of expectation was on the young QB's shoulders and we know that it's one thing coming in as the unexpected back-up but this week he was known to be the starting and was facing an excellent Texans defense led by future Hall of Famer JJ Watt and they will have been fully prepared and been well-drilled for a Kyle Allen Panthers offense. It would have been unsurprising if had seen a conservative strategy, looking to rely on Christian McCaffrey and Greg Olsen, but Allen found 6 different receivers, 4 of whom went for more than 30 yards and McCaffrey rushing for just shy of 100 yards giving the offense a good balance and not to mention being the leading receiver as well, including a magical catch that bobbled three times before he finally secured it.
The real issue offensively was definitely the 3 lost fumbles by Kyle Allen, all of which were recovered by the Texans, this could have easily made a young quarterback retreat mentally into his shell and play conservatively, but we absolutely did not see this with Allen, in fact, each Panthers drive following the turnovers resulted in points on the board. Ball security needs to be addressed if Carolina is to make a serious run at the playoffs and you can point the finger at less than stellar O-line play, but what you really want to see is Allen maturing so that he knows when protection has broken down and when to secure the ball, a point he conceded in his post-game interview.
However , a tough and determined performance from a gutsy and resilient young QB can only fill Panthers fans with confidence, characterised by him somehow shrugging off a JJ Watt attempted sack late in the 4th as if it was nothing, we need to see a bigger sample of his performances to be sure but adding a tough, hard-fought win to last week's flashy performance point to a player who looks like he has a lot to offer!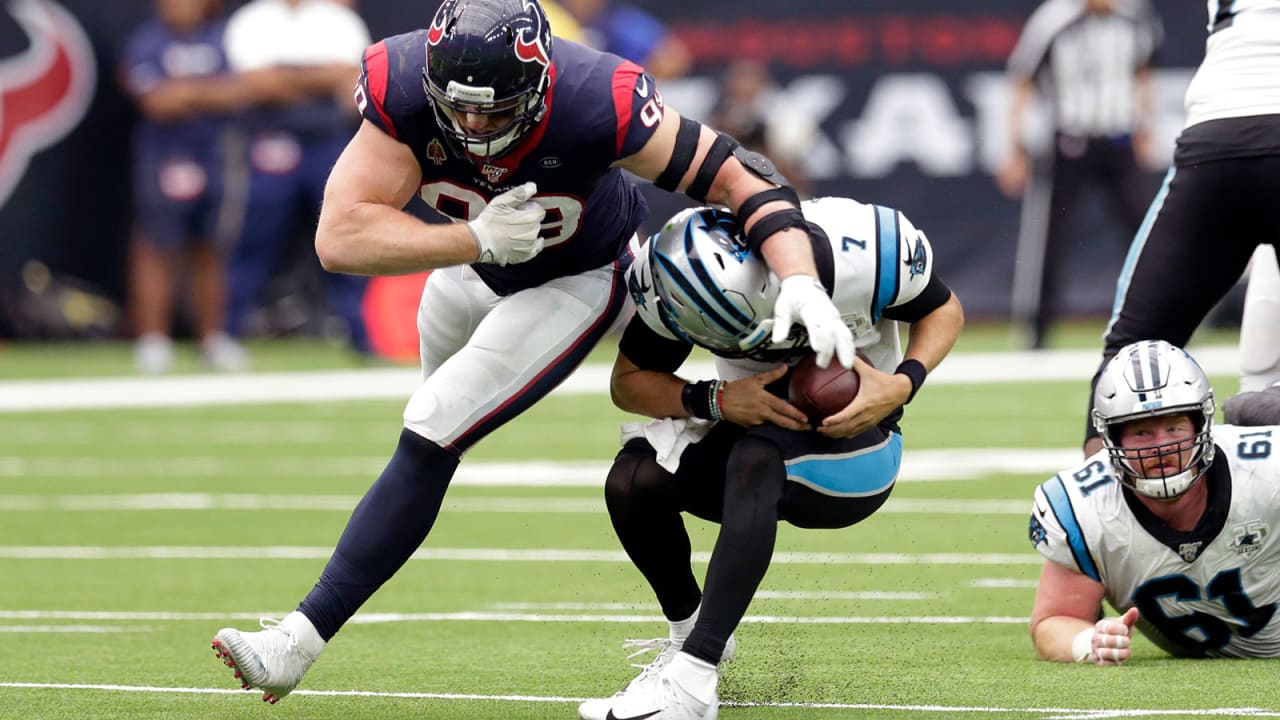 The Defense
Despite a mediocre offense devoid of the big plays that marked Carolina's gunslinging win over the Arizona Cardinals the week prior, the defense kept the Panthers alive and kicking throughout yesterday evening's game. The defensive line enjoyed anothersackfest, taking Deshaun Watson to the ground a grand total of 6 times, and provided consistent and constant pressure throughout the game. Meanwhile, the secondary went to work with suffocating coverage. James Bradberry did a stellar job covering the Texan's star wide receiver DeAndre Hopkins, to the detriment of my fantasy football team, who made little impact with only 41 total yards from 5/8 receptions. To add insult to injury, Hopkins also threw an interception on a trick play that was immediately sniffed out and extinguished by cornerback Ross Cockrell who was the benefactor of one of the easiest interceptions you're likely to see in the NFL.
Perhaps the most positive takeaway from this Panther's defense thus far is that there is proven depth among their ranks. This week two key starters, Donte Jackson (cornerback) and Kawann Short (defensive tackle), were inactive, leading many to doubt the D could put up the same stalwart defense that had characterised their three previous performances. In their absence, two players in specific stepped up and made game-breaking plays – Ross Cockrell on the previously mentioned interception along with a touchdown-saving pass breakup, and Vernon Butler with a crucial second-half strip-sack that led to Panther's safety Eric Reid recovering the ball.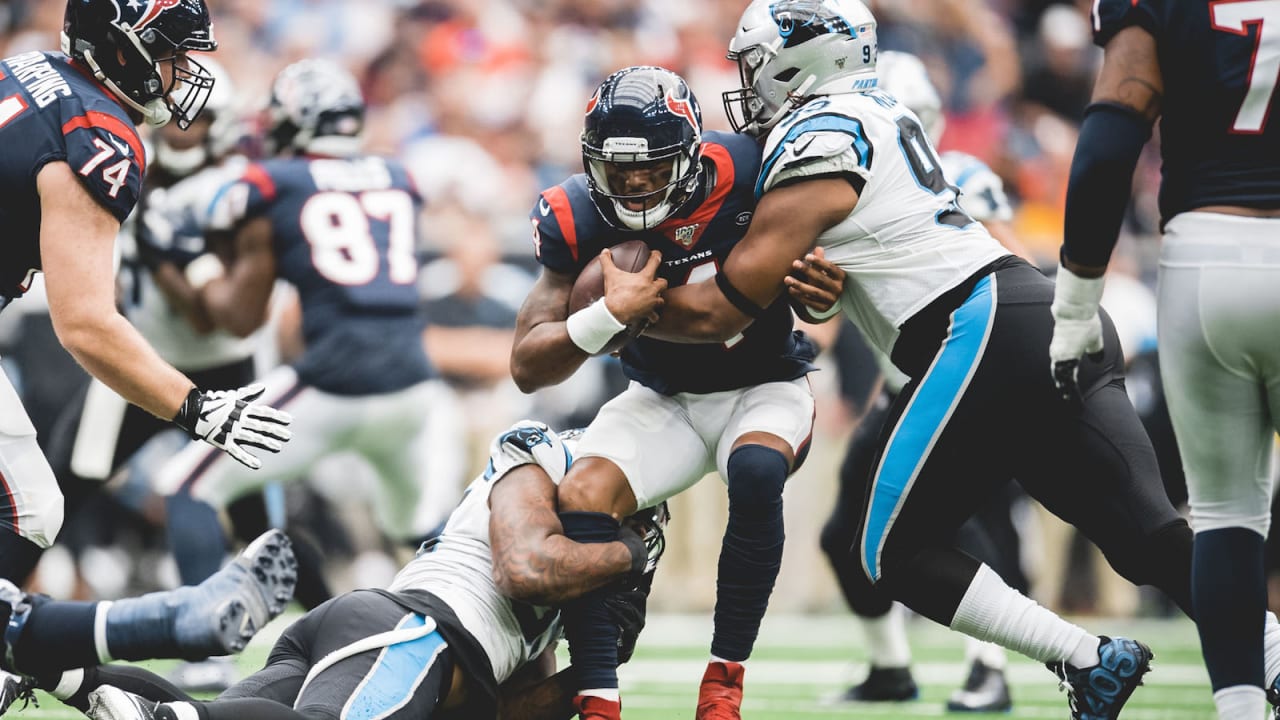 This was truly a joint effort, with the team showing little weakness from the defensive line through to the secondary, and all units produced big defensive takeaways that hindered the Texan's ability to build even a flicker of momentum. They gifted little and took much as Watson was held to an average of only 4.84 yards per attempt, a career-low since his debut. If anything can be deduced from this performance, it is as follows – this Carolina defense is one that teams should be worried about.
Next Sunday the Panthers host the Jacksonville Jaguars and will hope to carry the momentum from their wins on the road to finally muster a home game victory.